15th International Docomomo Conference
Ljubljana 2018
August 28 – August 31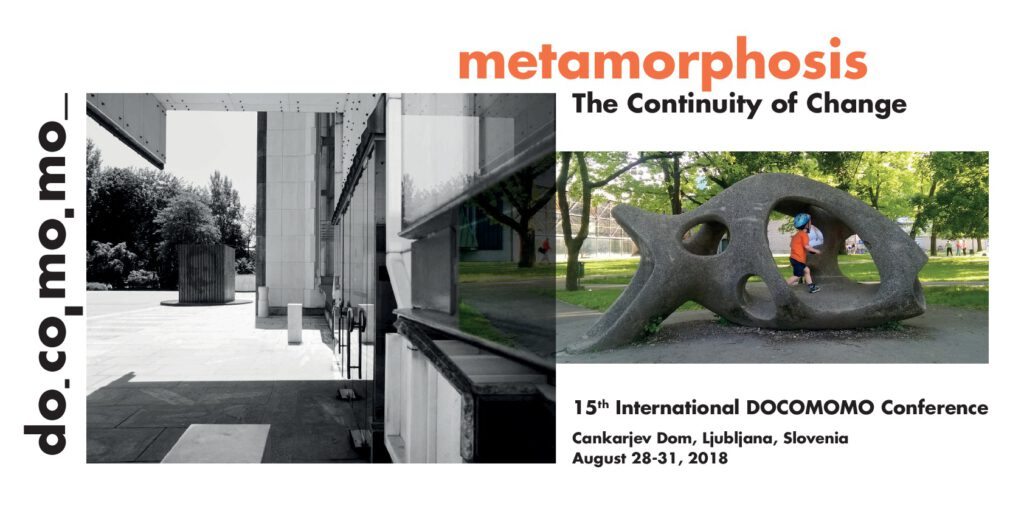 The 15th International Docomomo Conference was organised unter the theme Metamorphosis – The Continuity of Change. the conference took place in Cankarjev Dom, Ljubljana, Slovenia.
We are currently experiencing a complete escalation of change in different areas of life. Change has never been as easy as it is now, in the 21st century. We are getting closer and closer to Kafka's Metamorphosis becoming a reality. The meaning of truth, human and social values, authenticity and identity are changing their importance. The difference between the original and the phoney is waning. The Modern Movement's social and aesthetic values have never been so strongly in the spotlight as they are today. What do we stand for? What does Docomomo stand for in this changed World's paradigm?
Change has long been a leitmotif in the geographical, historical, cultural and political agendas of little Slovenia, especially in the last hundred years. Always just on the edge of the major hubs of the Modern Movement, squeezed in between the East and the West, Slovenia has developed into a boutique-like European country, strategically located between the Adriatic Sea and the Alps, surrounded by Italy, Austria, Hungary and Croatia. Having been part of the Habsburg Monarchy, Illyrian Provinces, Austro-Hungarian Empire and part of the Kingdom of Yugoslavia and after having experienced three totalitarian regimes, Slovenia continued as a member of the Socialist Federal Republic of Yugoslavia for 46 years before achieved independence in 1991 and joining the European Union in 2004.
The proceedings of the conference have been indexed by scopus and are digitally available via ISSUU
Tostões, Ana, and Koselj, Nataša, eds. Metamorphosis. The Continuity of Change. Lisboa: Docomomo International; Ljubljana: Docomomo Slovenia, 2018.