Heritage in Danger: Notre-Dame de Beauraing sanctuary
Docomomo International has been made aware through Docomomo Belgium of a Heritage in Danger, namely the future state of the Notre-Dame de Beauraing sanctuary in Belgium. This Catholic sanctuary represents a major work of one of the most important and representative Belgian late modern architects, Roger Bastin (1913-1986). Bastin was trained by the first generation of modernists at ISAD La Cambre and proved to be, after the post-WWII reconstruction, one of the best representatives of creative architecture in Belgium during more than five decades, especially in the impact period of Expo 58.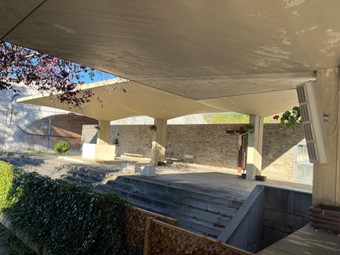 Notre-Dame de Beauraing sanctuary is a rare brutalist architectural ensemble, quite exceptional in its size, its location in a rural area small town, and its function as a site of primary religious importance. In August 2023, a planning permit was granted to Bureau Fellin Architectes for their design of a garden with a shelter, that would replace some of the existent noteworthy architecture. This project would involve the complete eradication of the corresponding parts of Roger Bastin's work, namely the entrance esplanade and Enclos de l'Aubépine. The threatened elements are small in size, but crucial to the coherence of the site based on their constitution, their originality, their architectural and structural interest and beauty (canopy made of hyperbolic paraboloid veil). A different approach, honoring and preserving the initial architecture of the sacred space would be advisable, in addition to consulting the extensive architectural archives and technical documents of the site.
Image credits: (C) Fabienne Courtejoie, 01.10.2023