Middle Class Mass Housing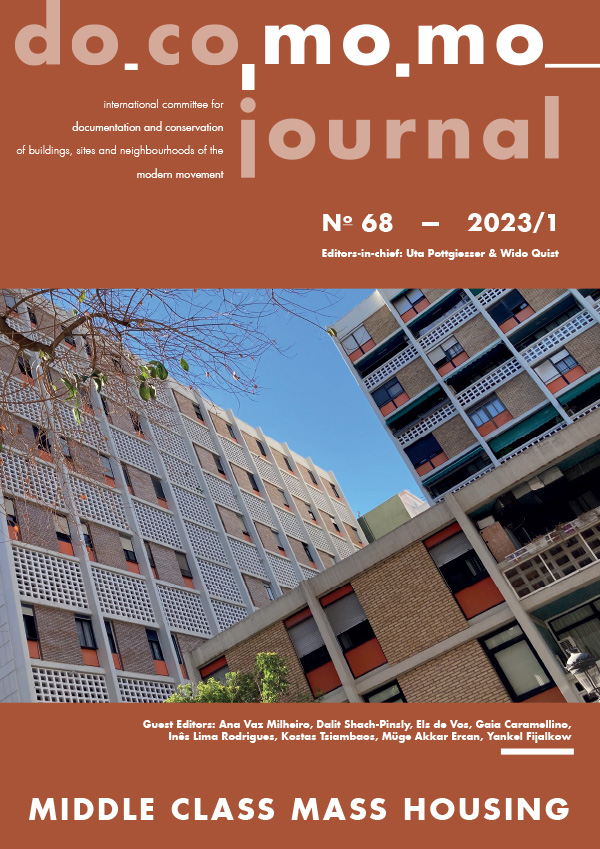 The first DOCOMOMO Journal of 2023 is available online: #68 on Middle Class Housing in Europe. Together with #69 the printed version of this issue will we sent to all DOCOMOMO International members before the end of the year.
Enjoy the online version via https://doi.org/10.52200/docomomo.68
This special issue of the Docomomo Journal dedicated to the investigation and comparison of Middle Class Mass Housing in Europe since the 1950s. MCMH has been generally underestimated in urban and architectural studies and there is still a lack of comparative analysis and global perspectives.
This special issue is linked to the EU-COST-Action on the same topic (https://mcmh.eu) that aims to develop new scientific approaches by discussing, testing and assessing diverse case studies, their social and cultural context, interventions and public policies.
Most housing research still focusses on social and affordable housing and while the definition and identification of MCMH is still under construction (definitions). It is evident that MCMH has different forms of urban and architectural representation and various models of governance. The editors like to invite contributions from Europe and from other parts of the world that document, discuss and compare typologies (cases) of this modern heritage as a key resource for a sustainable urban and social development. Articles should display concepts and actions at social, cultural and political levels that will contribute to the formulation of new planning and intervention strategies (policies) for existing MCMH.