17th International Docomomo Conference
Valencia 2022
September 6 – September 9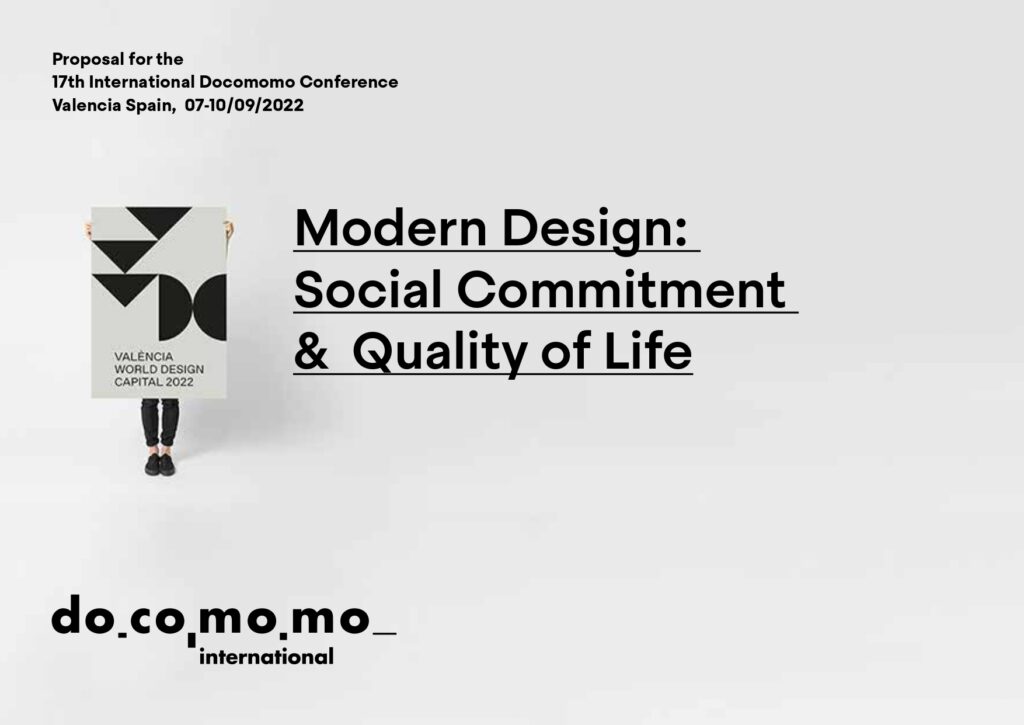 The proposal to organize the 17th International Docomomo Conference in Valencia, Spain, was accepted in the email voting that occurred between 4 and 12 December 2020, organized due to the impossibility to hold a presencial Council Meeting in 2020. This approval was ratified in the 16th Docomomo Council Meeting, last August 31, 2021.
The 17th International Docomomo Conference will take place in Valencia, Spain, between the 6th and the 9th September, 2022, under the theme "Modern Design: Social Commitment & Quality of Life".
Venue:
School of Architecture, Universitat Politècnica de Valencia (UPV-ETSA)
More information: www.docomomoconference2022.com
Modern Design: Social Commitment & Quality of Life
The proposed theme was defined the way that it may be included in the official program of the World Design Capital to be held in Valencia in 2022.
Architects once viewed modern design, including the treatment of interior space, furnishings and other objects as part of their overall projects that included the treatment of the interior space, furnishings and other objects. One of their main objectives was to meet the needs of the new way of life by coming up with innovative and functional solutions for creating new ambiences. The influence of the social hygiene movement and its requirements – comfort and easy to use – ensured that their results were of a markedly ergonomic nature.
The relationship that was forged between modern design and industry, through the use of new materials and techniques, led to the creation of companies specializing in the manufacture of certain objects sprang up that took a new look at traditional criteria. Today, many of those designs are still with us, appearing in catalogues as cultural icons.
This theme will encourage us to reflect upon how re-thinking interior space in the widest sense was tackled, the different contexts where it was developed and who the main artifices were. If the proposed theme is, in itself, pertinent, today it is of even greater interest as, curiously, the improvement in the health conditions of habitable spaces is an insistent social demand as a result of the international spread on the COVID 19 pandemic.
Subthemes:
1. The Avant-Gardes. First generation architects
2. Post-war. International expansion
3. The Latin American contribution
4 .Women. Pioneers and modern
5. Iberia. Cultural identity
6. New materials and innovative technologies
7. Urban design and quality of life
8. Landscapes and public space